Ricoh printer leasing - Rent a photocopier at good price
We supply and service Multifunctional Ricoh printers to London and surrounding areas.
Call us on 0208 808 3103
or email sales@topserve-copiers.co.uk
Ricoh printer leasing
Your company is considering buying or leasing Ricoh printers. Whilst researching you notice jargon like 'managed print services' 'multifunctional devices' 'workflow solutions' 'print management companies'. You don't need to be thrown all this information at you when all you want to do is concentrate on managing and growing your business. So let us give you the complete range of services and purchase information for businesses.

Ricoh photocopier
First things first, there are many brands of printers / copiers. They will all typically do the same things such as scan, print and copying. We supply a range of Ricoh photocopiers which tend to have a superior print quality and the lowest prices, and in your service arrangement this will include toner and supplies. Ricoh were one of the first providers of office equipment solutions. Ricoh have access to world class technology and services which is now aimed towards providing not just products but business solutions.
Ricoh printers have come a long way since the business was formed and now these devices can even detect when they are running low on toner, so you don't need to keep calling for a service or for more supplies. As a business that provides service and sales of Ricoh photocopiers across multiple offices and locations (including the odd farm!), we have many customers who have specific needs. Each one will have different type of documents and sometimes different quality of paper they need to print on, so we like to run through a fact find about your business and then recommend the correct Ricoh printer and the associated costs.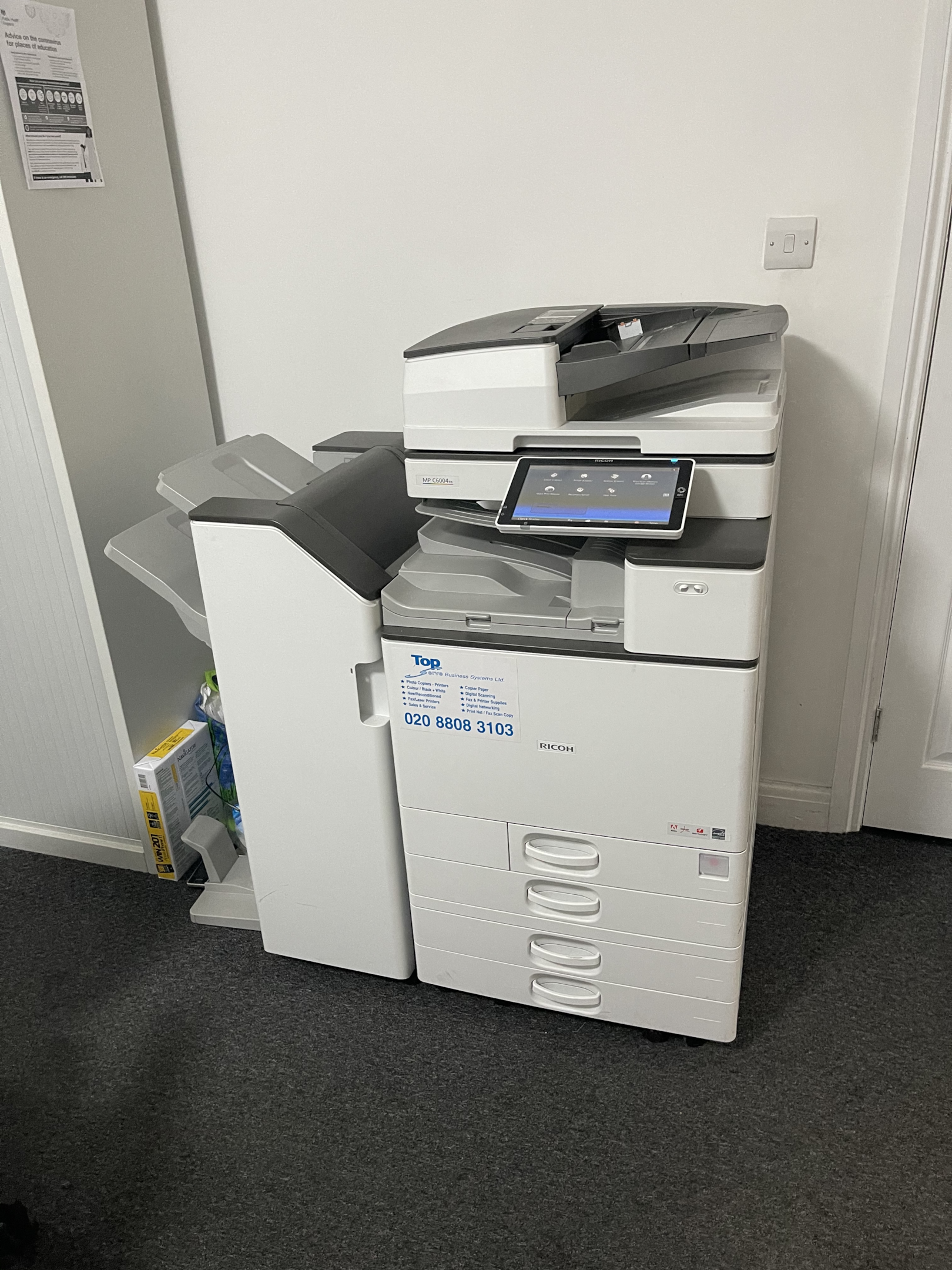 Ricoh photocopiers can range from 20 pages per minute print speed up to 90 pages per minute, so depending on you printing needs, we can best advise on the which Ricoh copier will be best for your workplace. Scan productivity can also reach speeds of 130 pages per minute. If you'd like to compare which products or equipment you need, don't worry, just contact us on 0208 808 3103 and we can guide you through some Ricoh photocopier options. Of course, the higher the productivity or speed of the Ricoh copier will impact your upgrade cost.
Prices will also be higher the more products and features you have associated such as fax or staple finish technology. You can even bundle in IT support, which in the industry is called 'Managed print services'. This is just a fancy name of saying we provide solutions which will look after the tech in your workplace, which could include the server, mobile devices (like iPads), computers, the Ricoh printer and any other hardware devise like small colour printers, which Ricoh also do.
Ricoh Printer
When considering taking out a new lease or purchasing key products like phones or a photocopier, you need to make sure its right for your office environment. For example, there is no point taking out a lease on a colour printer if the majority of the work is done in black and white. In addition, if you have 8 people in the office, you'll need a machine which can print at least 45 pages per minute.
At Topserve, we have a number of flexible purchase options too, where you can spread the cost of the purchase over 3-6 months. If you compare that to a printer lease over 3 – 5 years, buying Ricoh copiers can be be cheaper. The benefit of a lease is that there is minimal upfront cost, however you won't own the asset when your leasing agreement ends. Buying a copier on the other had allows you to part exchange your old devices and that money can be put towards your upgrade.
Brand New or Refurbished Ricoh Copiers
If you haven't heard, there is currently a shortage of semiconductor chips. It's not uncommon for you to be waiting 3 – 6 months for your new copiers to arrive. Sales of refurbished Ricoh copiers have significantly increased during 2021. Repairs and service on refurbished Ricoh photocopiers work just like they would on brand new, and the savings are incredible. You could potentially save up to 80% when buying refurbished.
Leasing or Buying Ricoh printers
At Topserve, we partner with a few leasing business services, where you can spread the cost of your printers over 3, 4 or 5 years. Printing has gone through quite a change in the last 10 years and even more so during 2021 due to hybrid working. If you like to understand what your business requires, contact us on 0208 808 3103 or email sales@topserve-copiers.co.uk
Ricoh Desktop printers – Purchase
from £845 + VAT
Compact unit with a small footprint. Ideal for busy offices and workgroups that need advanced print, copy and scan functions. Output speed is a brisk 30 – 40 prints a minute. Additional features can be added. Email us at sales@topserve-copiers.co.uk to find out.
Ricoh Freestanding 30/35 – Purchase from £995 + VAT or Rent from £49 + VAT Per Month
A3 & A4 capable. Simplify even the most complex printing, copying, scanning, and distribution tasks. With robust security features, impressive finishing capabilities. 30 – 35 pages a minute print speed. Call us on 0208 808 3103 to find out which specific features you require.
Ricoh Freestanding 45/55/60 Purchase from £1,250 + VAT or Rent from £49 + VAT Per Month
Our highest spec A3 A4 colour machine with speeds upto 60 pages a minute. Document finisher available with hole-punch, stapling and and booklet folding. The usual functions always include copy, print, scan, double-sided printing (duplex), USB and SD card. Fax options are available. Call 0208 808 3103 to find out more.
Ricoh Freestanding Mono 75
For very busy offices and schools where speed is a necessity. 75 page per minute print speed with usual finishing options. Call 0208 808 3103 or email sales@topserve-copiers.co.uk for a price.
Topserve has been supplying multi-function Ricoh machines for over 27 years.
We take all the complexities away and make the cost of using a multifunction printer/copier easy to understand. No third party leasing companies involved. Just 1 company who provides the machine and maintains it for a fair price. Not sure what you need? Call us on 0208 808 3103 and we'll suggest a machine that's the right fit for you.
Servicing, maintenance and free installation.
Low cost servicing and maintenance contracts so you're never offline. All toner, labour, parts and servicing are included as part of the service agreement, with mono copies starting from just £0.0059 + VAT. We will install, connect to your server and demonstrate your printer FREE of charge. Call us on 0208 808 3103 to find out how it works.
Reduce your printing costs
Topserve will provide you with a FREE audit and a solution which will make your printing more time and cost effective. Call us on 0208 808 3103 or email sales@topserve-copiers.co.uk to find out more.
Topserve software
With our unique software, we can track the health of the machine and toner levels. This means if an error code arises, we'll get sent a notification of the exact problem and can organise an engineer. When toner level drops to 10%, it will notify us too and we can then organise a next day delivery of toner. Call us for a demo 0208 808 3103.
Topserve is a well-established business providing photocopiers, multi-function printers and servicing to the Greater London area since 1991.
 The photocopier (along with the watercooler) used to be an awkward place for people to make small talk whilst they lethargically waited for their documents to be copied. Nowadays, we have multi-functional printers that do all kinds of time-saving stuff so you can focus on what matters most. Topserve can provide you with printing features like: network-enabled/cloud printing, scanning, faxing, stapling, double-sided print, printing up to 60 pages per minute! The list goes on and on ……..
Get in touch: 020 8808 3103
Email: sales@topserve-copiers.co.uk