Photocopier Rental London - Rent a photocopier at good price
We supply and service Multifunctional Ricoh printers to London and surrounding areas. Do yo want to rent?

Call us on 0208 808 3103
or email sales@topserve-copiers.co.uk
Photocopier Rental London
Are you looking to rent or lease a photocopier for your business? You've come through to the right place. This article will break down both leasing and printer rental options.
Ricoh Desktop printers – Purchase
from £845 + VAT
Compact unit with a small footprint. Ideal for busy offices and workgroups that need advanced print, copy and scan functions. Output speed is a brisk 30 – 40 prints a minute. Additional features can be added. Email us at sales@topserve-copiers.co.uk to find out.
Ricoh Freestanding 30/35 – Purchase from £995 + VAT or Rent from £49 + VAT Per Month
A3 & A4 capable. Simplify even the most complex printing, copying, scanning, and distribution tasks. With robust security features, impressive finishing capabilities. 30 – 35 pages a minute print speed. Call us on 0208 808 3103 to find out which specific features you require.
Ricoh Freestanding 45/55/60 Purchase from £1,250 + VAT or Rent from £49 + VAT Per Month
Our highest spec A3 A4 colour machine with speeds upto 60 pages a minute. Document finisher available with hole-punch, stapling and and booklet folding. The usual functions always include copy, print, scan, double-sided printing (duplex), USB and SD card. Fax options are available. Call 0208 808 3103 to find out more.
Ricoh Freestanding Mono 75
For very busy offices and schools where speed is a necessity. 75 page per minute print speed with usual finishing options. Call 0208 808 3103 or email sales@topserve-copiers.co.uk for a price.
Photocopier leasing example
In the UK, a lease is most associated with cars. However, printer leasing is very different as you won't get charged if there are scratches on your photocopier for example. You'll be billed from the leasing company every month for a fixed cost agreed at the start for a set period of time, either 3, 4 or 5 years. Let's take a look at an example below:
Photocopier cash price to outright purchase: £3,000 + VAT
Interest rate ~ 10%
Monthly repayments on a 3 year deal: £108.33 + VAT
Monthly repayments on a 4 year deal: £87.50 + VAT
Monthly repayments on a 5 year deal: £75 + VAT
As you can see, the longer the lease, the lower your monthly repayments will be. However, the more interest you'll be paying. If cashflow is not an issue, you may want to consider purchasing instead of a printer lease as you could end up saving up to £1,500 in this instance in interest payments.
Companies in London such as banks and insurance companies will tend to lease their photocopiers and other office equipment as their bigger budget and customers will dictate that they need the latest technology. These businesses tend to not take any risks when it comes to their printers as it plays such a vital part within their organisation, so having the printer down can actually cause the organisation more in lost revenue than an expensive photocopier leasing arrangement.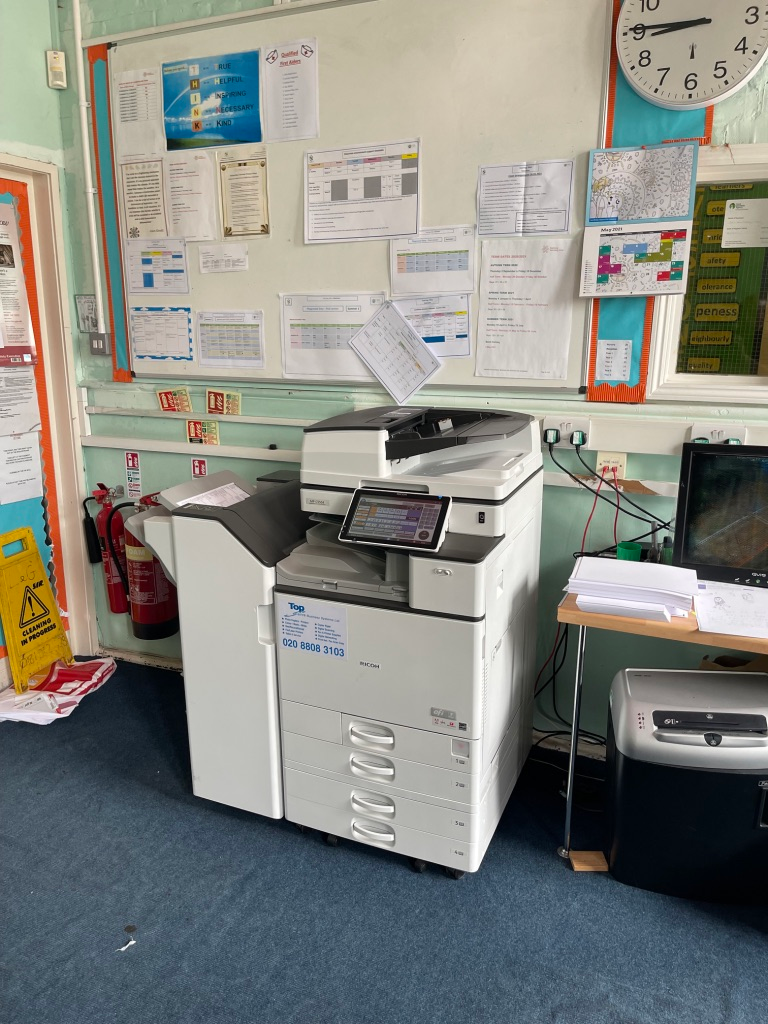 Many businesses in London also prefer leasing multifunctional devices or photocopier equipment as they don't have the time or expertise to organise an alternative method of billing. If the office manager is used to leasing, the maintenance services solution and support is within budget and the machines are brand new, it will make more sense to them to carry on with what they have been used to in the past instead of potentially upsetting the friendly staff at the office!
The accountant will also tell you that a photocopier lease from a tax perspective is the most efficient way to purchase printers photocopiers like Konica Minolta and Ricoh. Manufactures don't usually tend to give out their leasing prices online however in London, there are many distributors who provide managed print services for brands like Ricoh and Konica Minolta.
Accountants based in London will tell you that the whole photocopier leasing cost can be written off, whereas purchasing equipment and machines will be entered into your accounts as a capital item, meaning each year you can only claim back a certain amount of depreciation.
All our customers in London and surrounding areas who either rent or lease photocopiers will all have service contracts. Mono + colour photocopiers will be billed at different cost per copy. On a mono photocopier, if you don't use the copier often, the supplier will typically levy a minimum billing. However, if your usage is this low, you might be better off with a small business printer machine from Amazon or Argos.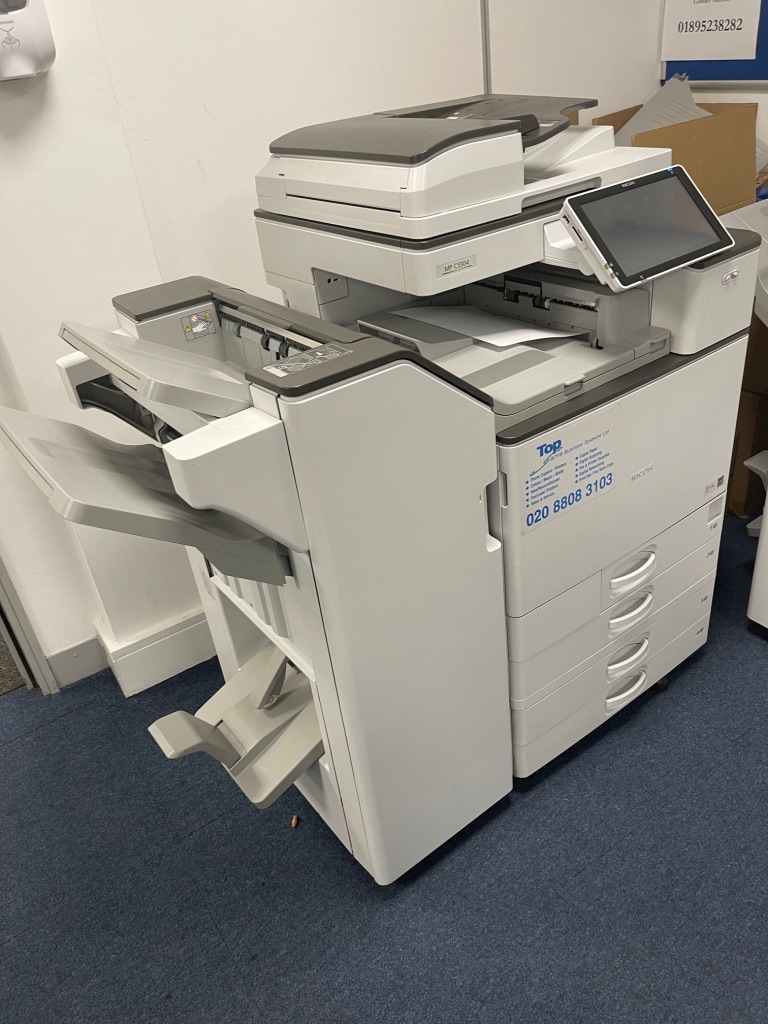 Printer rental services
A short term rental agreement is certainly a risk fee option for businesses. Let's take you through an example of a company that would use a photocopier rental.
A construction company has just started building a block of flats in London. The build is only going to take 18 months so they don't need colour printers or photocopiers after the build is complete. Printer leasing is not feasible as the minimum term is 3 years and purchasing a printer will not be fit for purpose as it will not come with a service arrangement. However, a printer rental works perfectly in this scenario. They can rent suitable printer / photocopiers for their site in London which will come with service support. From day 1 to the last day all your business printing needs will be taken care of including delivery, installation and removal.
Printer rental
Depending on the machine and the length of term, a business can rent a photocopier for around £65 + VAT per month.
Service
Will be calculated based on your printing. Your supplier may even include a certain amount of printing in the rental price and bundle it together or even give you unlimited printing allowance if you're a high volume user.
Call out response
This all depends where your supplier is based. Topserve are based in London so London customers will get faster response times compared to the rest of the UK.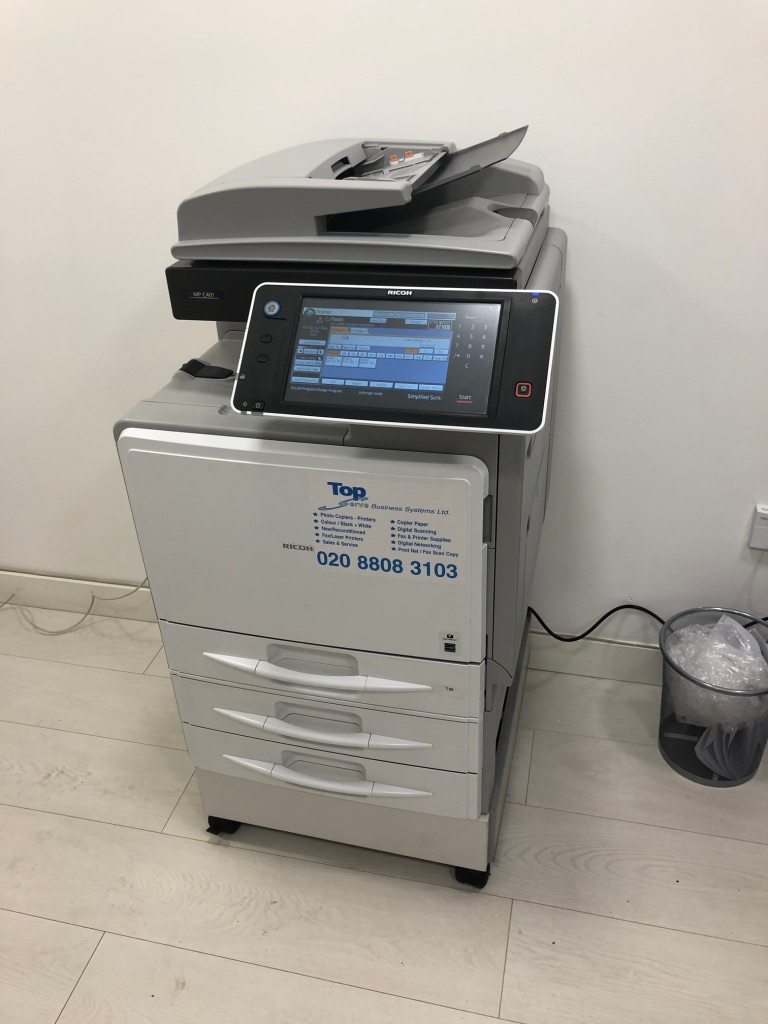 Topserve has been supplying multi-function Ricoh machines for over 27 years.
We take all the complexities away and make the cost of using a multifunction printer/copier easy to understand. No third party leasing companies involved. Just 1 company who provides the machine and maintains it for a fair price. Not sure what you need? Call us on 0208 808 3103 and we'll suggest a machine that's the right fit for you.
Servicing, maintenance and free installation.
Low cost servicing and maintenance contracts so you're never offline. All toner, labour, parts and servicing are included as part of the service agreement, with mono copies starting from just £0.0059 + VAT. We will install, connect to your server and demonstrate your printer FREE of charge. Call us on 0208 808 3103 to find out how it works.
Reduce your printing costs
Topserve will provide you with a FREE audit and a solution which will make your printing more time and cost effective. Call us on 0208 808 3103 or email sales@topserve-copiers.co.uk to find out more.
Topserve software
With our unique software, we can track the health of the machine and toner levels. This means if an error code arises, we'll get sent a notification of the exact problem and can organise an engineer. When toner level drops to 10%, it will notify us too and we can then organise a next day delivery of toner. Call us for a demo 0208 808 3103.
Topserve is a well-established business providing photocopiers, multi-function printers and servicing to the Greater London area since 1991.
 The photocopier (along with the watercooler) used to be an awkward place for people to make small talk whilst they lethargically waited for their documents to be copied. Nowadays, we have multi-functional printers that do all kinds of time-saving stuff so you can focus on what matters most. Topserve can provide you with printing features like: network-enabled/cloud printing, scanning, faxing, stapling, double-sided print, printing up to 60 pages per minute! The list goes on and on ……..
Get in touch: 020 8808 3103
Email: sales@topserve-copiers.co.uk